At the less-than-a-month-old restaurant, Trend, at Ansal Plaza in Delhi, one may not recognise the dish but the smell and the taste sure seem familiar. The restaurant experiments inventively with traditional Indian recipes by taking a modernist culinary approach. The food is not a "Frenchification" of Indian cuisine but a marriage of local flavours and Asian and French techniques of preparation and presentation.
A simple version of the classic cheese souffle gussied-up with a small portion of charred asparagus was the first to make a dash to our table from the kitchen, which is helmed by chef Jiten Singh, who has previously whipped up delicacies at Olive Bistro and Amour cafe. It was made with parmesan, emmental and goat cheese in crisp potato cups. The asparagus made the rich souffle lighter on the palate — that demands to be accompanied by a drink. The tangy kokum sherbet we ordered only added to the winning start. If you favour yourself a hooch, you'd be better off approaching the restaurant in 10 days time.
Trend takes the customers' time seriously. Dishes, at the right temperature, rallied out of the kitchen just as the one on the table met its end. An aesthetically plated rechad sole on a bed of corn kuchumbar was presented. The traditional Goan dish requires a fish to be stuffed with recheado masala but our strips were, instead, coated in it. The sweetness of the corn tossed with fresh tomatoes, cucumber and onions perfectly balanced out the intensity of the masala. Another dish, bedaubed with masala, was the seafood bowl "65", a take on the popular chicken 65 from Chennai. The bird was replaced with aquatic creatures — squid, crab and prawns — that were not only cooked to perfection but also stood up well to the spice.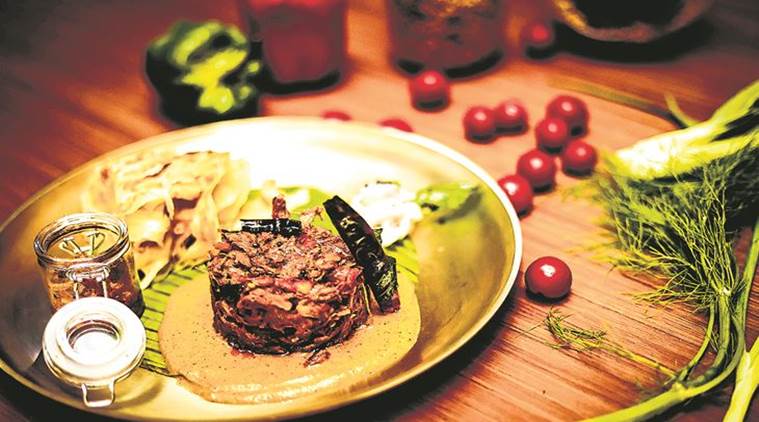 The prawn crackers, upon which they were perched, enhanced the texture of the dish but were scrummy even when enjoyed by themselves, especially as some soaked the masala of the dish. The mains, too, spoil its patrons for choice — from risotto to Quail Dum Biryani; Sri Lankan Pork Curry to Scottish Tawa Salmon among a selection of pasta and "paper-thin" pizzas. We settled for the Mysore Mutton Masala Tiffin, which comprised Udipi Masala Roast Mutton, Malabar Porota, mutton achar and rings of raw onion. There is neither a flavour nor a texture that is misplaced here. The dish ensures a yearning for yet another bite of the mutton long after the last bite.
It was almost as if the dessert knew what it had to match up to. The Holy Coconut was the most gorgeous psychedelic mess — a couverture chocolate shell filled with a delicate coconut mousse and dotted with charnamrut coulis, sat amid white and milk chocolate soil, rose-raspberry coulis, dark chocolate cremeaux and pistachionut strugel. Dare to take all in one bite and there will be nothing short of a mad explosion of flavours in the mouth. Needless to say, we were blown away.