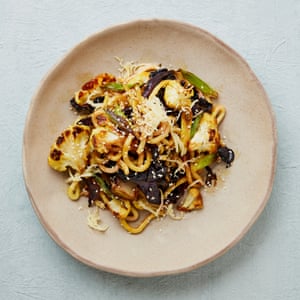 Udon noodles are my favourite noodles: fat, chewy and wonderfully slurpable. There is much joy to be had in their bounciness, and in the speed with which they can hit the table, given that they're available cooked and 'ready to wok'. In Japan, they're often added to hot soups, but I've never managed to work out the bowl-to-mouth manoeuvre without ruining a perfectly good top. I like them best yaki-style, stir-fried with a party of vegetables and, in this instance, spiced with curry powder, slightly sweet and spiked with lime.
Udon noodles with red cabbage and cauliflower
Roasting brings out the cabbage's bitter, caramel notes. You can buy ready-to-wok udon in most supermarkets. Japanese pink pickled ginger, or shoga, may be harder to find; look in Asian food stores and online. I've included a recipe just in case.
Prep 15 min
Cook 45 min
Serves 4
1 small red cabbage (or 500g) cut into 2cm wedges
1 small cauliflower (or 500g), cut into 4cm florets
Rapeseed oil 
4 tbsp light soy sauce 
8-10 spring onions, cut at an angle into 4cm pieces
2 garlic cloves, peeled and grated
600g ready-cooked udon noodles
1 tsp curry powder
2 tbsp mirin
2 tbsp lime juice
For the pickled ginger (optional)
40g ginger, peeled and cut into tiny batons
¼ tsp salt
1 tbsp water 
4 ½ tsp white-wine vinegar
4 tsp caster sugar
To serve
20g Japanese pink pickled ginger, or shoga (see above, or buy ready-pickled sushi ginger)
White sesame seeds
For the pickled ginger (if making), salt the ginger batons, leave for 30 minutes, then squeeze to remove as much water as possible. Put the water, vinegar and sugar in a small pan, bring to a boil and cook until the sugar dissolves. Pour over the squeezed ginger, leave to cool, then store in a clean, airtight container.
Heat the oven to 220C (200C fan)/425F/gas 7. Put the cabbage on one oven tray and the cauliflower on another, making sure the latter is in a single layer, so it doesn't steam. In a small bowl, mix two tablespoons each of oil and soy sauce, then pour over the cauli and cabbage, and coat well.
Pop both trays in the oven. Roast the cauliflower for 15 minutes, until just tender and blackening, then remove. Roast the cabbage for 20 minutes longer, until burned at the edges but still holding its shape.
Heat two tablespoons of oil in a large, nonstick frying pan on a medium-high flame. Add the spring onions and fry hard for two minutes, until starting to brown but still bright green. Add the garlic and cook for a minute more, stirring occasionally so it doesn't catch and burn.
Add the noodles, toss to coat in the garlicky oil and onions, then stir in the curry powder and mirin, and cook for a minute. Add the cabbage and cauliflower, toss to combine, and cook for two minutes, until the noodles take on a little colour. Add the remaining two tablespoons of soy and the lime juice, and toss to coat.
Transfer to four plates or bowls, and sprinkle a little pickled ginger and sesame seeds over each portion.