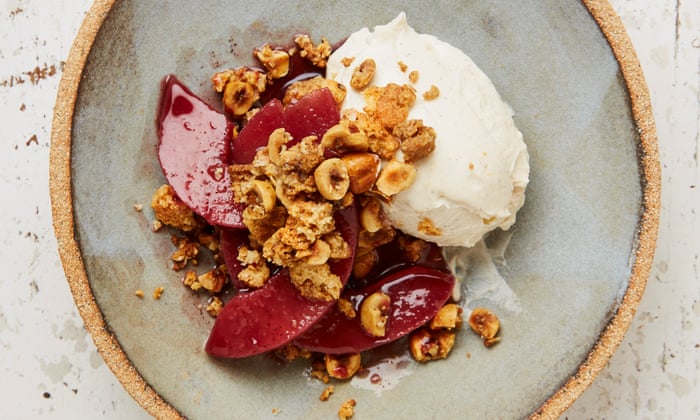 hile many of you may have had the good sense to use the last month or two to rein in the eating and drinking, to prepare body and mind for the impending onslaught of midweek work parties, batch mince-pie baking and excessive eating, I failed to do so. As a result, I don't feel at all prepared for the festive season. But 'tis the first of December and, ready or not, a month of inevitable overindulgence is upon us. So slip on your stretchiest trousers and let today's comfort cooking ease you in gently.
Fennel and apple gratin with parmesan crust
This gratin is indulgent enough to stand on its own as a main course, served with a light green salad to cut through the creaminess. Sweet vermouth adds an extra dimension, but can easily be replaced by another sweet white wine.
Prep 8 min
Cook 80 min
Serves 4
3 fennel bulbs (about 1.2kg), fronds intact
Salt and black pepper
2 granny smith apples (350g)
100ml sweet white vermouth, or other sweet white wine
100ml double cream
For the crust
50g panko breadcrumbs
50g parmesan, grated
10g fresh dill, chopped
10g tarragon leaves, chopped
1½ tbsp fennel seeds, toasted and lightly crushed in a mortar
1½ tsp lemon zest
2 tbsp olive oil
Heat the oven to 200C (180C fan)/390F/gas 6. Remove the fronds from the fennel bulbs and set aside, then cut each bulb lengthways into eight wedges. Fill a large saucepan with a litre of water, bring to a boil on a high heat and add a teaspoon of salt. Blanch the fennel wedges for 10 minutes, then drain into a sieve placed over a heatproof bowl, to reserve the cooking water.
Meanwhile, peel and core the apples, then slice them thinly (use a mandoline, if you have one) about 2mm thick. Put the apples in a 30cm x 20cm baking dish, along with the fennel, vermouth, cream and 100ml reserved cooking liquid. Season with a quarter-teaspoon of salt and a generous grind of black pepper, and toss everything together until well combined. Cover tightly with foil and bake for 45 minutes, until completely softened.
Meanwhile, prepare the panko crust by combining all the ingredients with a quarter-teaspoon of salt, a generous grind of black pepper and the reserved fennel fronds.
After 45 minutes, take the dish from the oven and remove the foil. Top with the panko mixture and bake, uncovered, for another 20 minutes, or until golden brown and bubbly. Leave to rest for 10 minutes, then serve.
Bread porridge with pulled pheasant and walnut salsa
You can make the bread porridge – which is a bit like a thick bread sauce – in advance and thin it down with milk before serving. Replace the pheasant with wedges of roast pumpkin to turn this into a vegetarian main.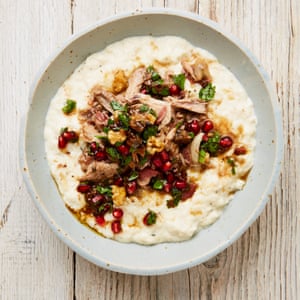 Prep 10 min
Cook 2 hr 15 min
Serves 4
70g unsalted butter
1 pheasant (700g)
Salt and black pepper
4 thin rashers bacon (80g), roughly chopped
2 small onions, peeled and quartered
10 sprigs fresh thyme (15g)
3 bay leaves
150ml dry white wine
3 tbsp port
200ml water
700ml whole milk, plus a little bit extra, to thin down
400g loaf sourdough, crusts removed and discarded, crumb torn into 2-3cm pieces (250g net)
100ml double cream
For the pickled walnut salsa
2 pickled walnuts, roughly chopped, plus 1½ tbsp pickling liquor
1½ tbsp olive oil
20g walnut halves, roughly broken
10g parsley leaves, roughly chopped
30g pomegranate seeds (ie the seeds from about ¼ of a pomegranate)
Put 20g butter in a medium-sized, heavy-based casserole pan for which you have a lid and put on a medium-high heat. Season the pheasant all over with half a teaspoon of salt and a good grind of pepper, then lay it in the pan. Fry for three to four minutes, turning regularly, until browned all over. Add the bacon, half the onion, half the thyme, one bay leaf, the white wine, port and water, and bring to a boil. Once boiling, turn down the heat to medium-low, cover the pan and leave to simmer for an hour and a half, until the pheasant is cooked and the meat is falling off the bone. Turn off the heat and, once the pheasant is cool enough to handle, lift out and set it aside with the bacon and onion. Strain the cooking juices back into the same pan; discard the remaining aromatics.
Pick all the pheasant meat from the bones and return the meat to the cooking liquid with the bacon and onion. Bring to a boil on a medium-high heat, then reduce for three to four minutes, until you are left with about 100ml liquid in the pan. Cover and set aside.
Pour the milk into a large saute pan and put on a medium-high heat with the remaining butter, onion, thyme, bay leaves, half a teaspoon of salt and plenty of pepper. Bring to a boil, reduce the heat to medium-low and simmer gently for 10 minutes. Discard all the aromatics, add the sourdough pieces and stir through for three to four minutes, until the bread has softened and has the consistency of porridge – you may need to add a bit more milk or reduce the porridge for longer, depending on the texture of the bread. Once the bread is ready, stir in the cream, cover and set aside.
Mix all the salsa ingredients in a small bowl with an eighth of a teaspoon of salt.
Divide the sourdough porridge between four shallow bowls, top first with the pheasant mixture and then the salsa, and serve.
Quince cheesecake with amaretti and hazelnut crumble
This is a deconstructed cheesecake, which makes the process from bowl to mouth a lot quicker. All the elements can be made ahead. The cheesecake itself will keep in the fridge for three days, as will the quince and syrup – simply bring the fruit back to room temperature a few hours before serving, and gently heat the syrup to loosen it. The crumble will keep for two days in an airtight container at room temperature – bake in a very hot oven for a few minutes to crisp up.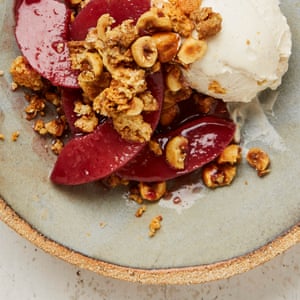 Prep 12 min
Cook 1 hr 35 min
Serves 4
For the poached quince 
1 lemon
1 large quince (320g)
70ml red wine
70g caster sugar
¼ tsp ground allspice
½ tsp vanilla paste or extract
1-2 oranges – skin finely shaved, to get 3 strips, then juiced, to get 3 tbsp
145ml pomegranate juice
For the cheesecake
100g goat's cheese
30g icing sugar, sifted
200ml double cream
¼ tsp vanilla bean paste or extract
¼ tsp ground allspice
½ tsp finely grated orange zest
For the crumble
70g unsalted butter
50g amaretti biscuits – the hard ones, not the chewy variety
50g Hobnob biscuits
50g blanched hazelnuts, well toasted and roughly chopped
¼ tsp ground allspice
Flaked sea salt
Heat the oven to 190C (180C fan)/390F/gas 6. Juice the lemon, reserving the squeezed halves. Set aside one tablespoon of juice, then put the remaining juice and the squeezed halves in a large bowl with plenty of cold water.
Peel the quince, then cut it in half lengthways. Cut each half into eight segments, so you have 16 segments in total, putting them in the lemon water as you go, to prevent them discolouring. Once you have cut all the segments, use a small, sharp knife to remove the core and seeds – the segments will now look like crescent moons.
Whisk the reserved tablespoon of lemon juice with the wine, sugar, allspice, vanilla, orange juice and peel, 100ml pomegranate juice and 120ml water. Tip the wine mixture and drained quince segments into a high-sided baking dish that's just big enough to hold the segments without them overlapping too much. Cover tightly with foil, bake for 40 minutes, then remove the foil and bake for another 35 minutes, basting two or three times, until the quince is soft and has taken on the colour of the wine. Add the remaining three tablespoons of pomegranate juice and leave to cool.
Meanwhile, put the goat's cheese and icing sugar in the bowl of a stand mixer with the whisk attachment in place. Whisk slowly to make the cheese as smooth as possible, then add the cream, vanilla, allspice and orange zest, and whisk again on medium speed, until the mixture thickens enough to hold its shape – about one to two minutes – then refrigerate.
For the crumble, gently heat the butter in a small saucepan on a medium heat for about six minutes, swirling the pan from time to time, until the butter begins to foam, turn brown and smell nutty and caramelised. Set aside to cool for a few minutes. Roughly crush the amaretti and Hobnobs, then mix in a bowl with the hazelnuts, allspice, the cooled butter and a generous pinch of flaked salt.
To serve, spoon a large scoop of cheesecake mix into each bowl and top with some crumble. Spoon the quince and syrup on top, and finish with more crumble and a final drizzle of syrup.